BabelNet 5 is out now!
Celebrate the 10th anniversary of BabelNet with us!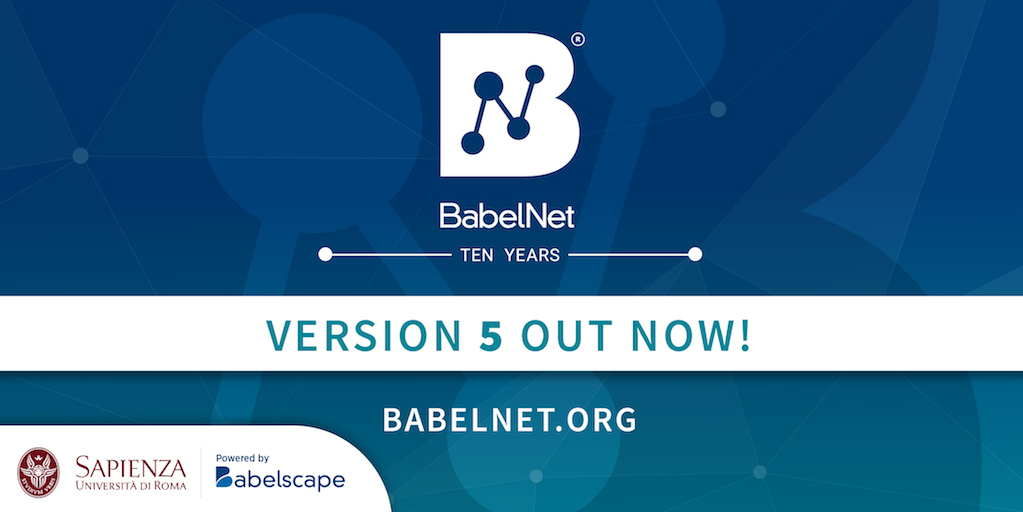 To celebrate its tenth anniversary, we are proud to announce the release of a new major version of BabelNet and its API, developed jointly by the Sapienza NLP Group of the Sapienza University of Rome under the supervision of Prof. Roberto Navigli and Babelscape, a high-tech multilingual NLP Company providing innovative solutions for multilingual NLP.
BabelNet -- winner of the prominent paper award 2017 from the Artificial Intelligence Journal and the META prize 2015, and covered in media such as The Guardian and Time magazine -- is today's most far-reaching multilingual resource which, according to need, can be used as an encyclopedic dictionary, or a semantic network or a huge knowledge base/ontology. It has been used by more than 1000 universities and research institutions, enabling multilinguality in several fields of AI and NLP, such as semantic search, Word Sense Disambiguation, Semantic Role Labeling and image tagging.
BabelNet was created by means of the seamless integration and interlinking of the largest multilingual Web encyclopedia - i.e., Wikipedia - with the most popular computational lexicon of English - i.e., WordNet, and other lexical resources such as Wiktionary, OmegaWiki, Wikidata, dozens of wordnets, Wikiquote, GeoNames, and ImageNet. BabelNet provides multilingual synsets, i.e., concepts and named entities lexicalized in many languages, and connected with large amounts of semantic relations.
Version 5.0 comes with the following features:
A brand-new interface;
500 languages now covered;
Wikipedia, Wiktionary, Wikidata and GeoNames have been updated thanks to BabelNet live, a continuously-growing resource with daily updates from all the sources that go to make it up;
Better sense inventory thanks to the manual validation of thousands of mappings;
WordNet 2020 integrated;
Improved treatment of Chinese;
4 million new multilingual synsets (from 16 in v4 to 20 million synsets in v5);
1,426 million senses (was 832 million senses in v4, increasing language coverage considerably);
Thousands of synsets manually updated with the new domain labels;
Improved domain labels available, including: Education and science, Mathematics and statistics, Navigation and aviation, Geography, geology and places, Culture, anthropology and society, and more.
More statistics are available at: babelnet.org/statistics.
Kind regards,
The BabelNet group